BIENVENUE SUR LE BLOG DE DINDON CANADIEN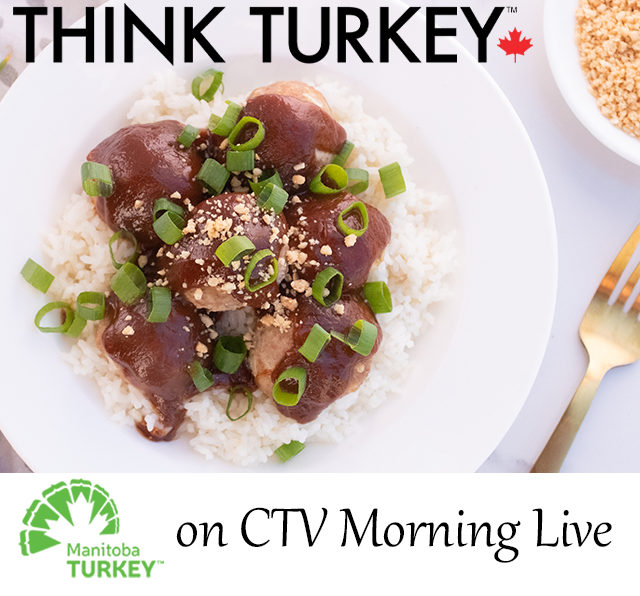 Think Turkey on CTV Morning Live 2021
Manitoba Turkey Producers has teamed up with Butterball and Granny's for new weekly Think Turkey cooking segments on CTV Morning Live Winnipeg featuring brand new turkey recipes & loads of turkey tips! Join CTV Morning Live Winnipeg hosts Terri Apostle & Ainsley McPhail and either Chef Shahir Massoud or Amanda Bibeau as they make a delicious turkey recipe each Thursday morning! Make sure to set your PVR as segments run Thursdays (excluding Remembrance Day) until December 16th! Our first episode, which airs on Thursday, Sept 23rd, features Butterball's turkey roast. Think Turkey this fall with local Manitoba-produced turkey!
Watch all Think Turkey segments by clicking here!
Featured Recipes
| | |
| --- | --- |
| Herbed Turkey Rub | Turkey Fried Rice |
| October 7th | October 14th |
| Recipe | Recipe |
More Recipes & Cooking Tips Coming Soon!
Manitoba Turkey Fall Contest
During the week of October 4th, you have a chance to win a Manitoba Turkey Producer prize package featuring Manitoba raised turkey products. Watch every morning for the secret code word and enter online! Enter your guess by clicking here. The prize package includes:
1 x Frozen Manitoba Raised Grade-A Whole Turkey (3-5kg in size)
1 x Frozen Manitoba Raised Turkey Breast Roast
1 x Digital Meat Thermometer
1 x Basting Brush
1 x Apron
1 x Reusable Grocery Bag
1 x Jar Gripper
1 x "Think Turkey" Stress Reliever Drumstick
1 x Pen
1 x Note Pad
4 x Recipe Books